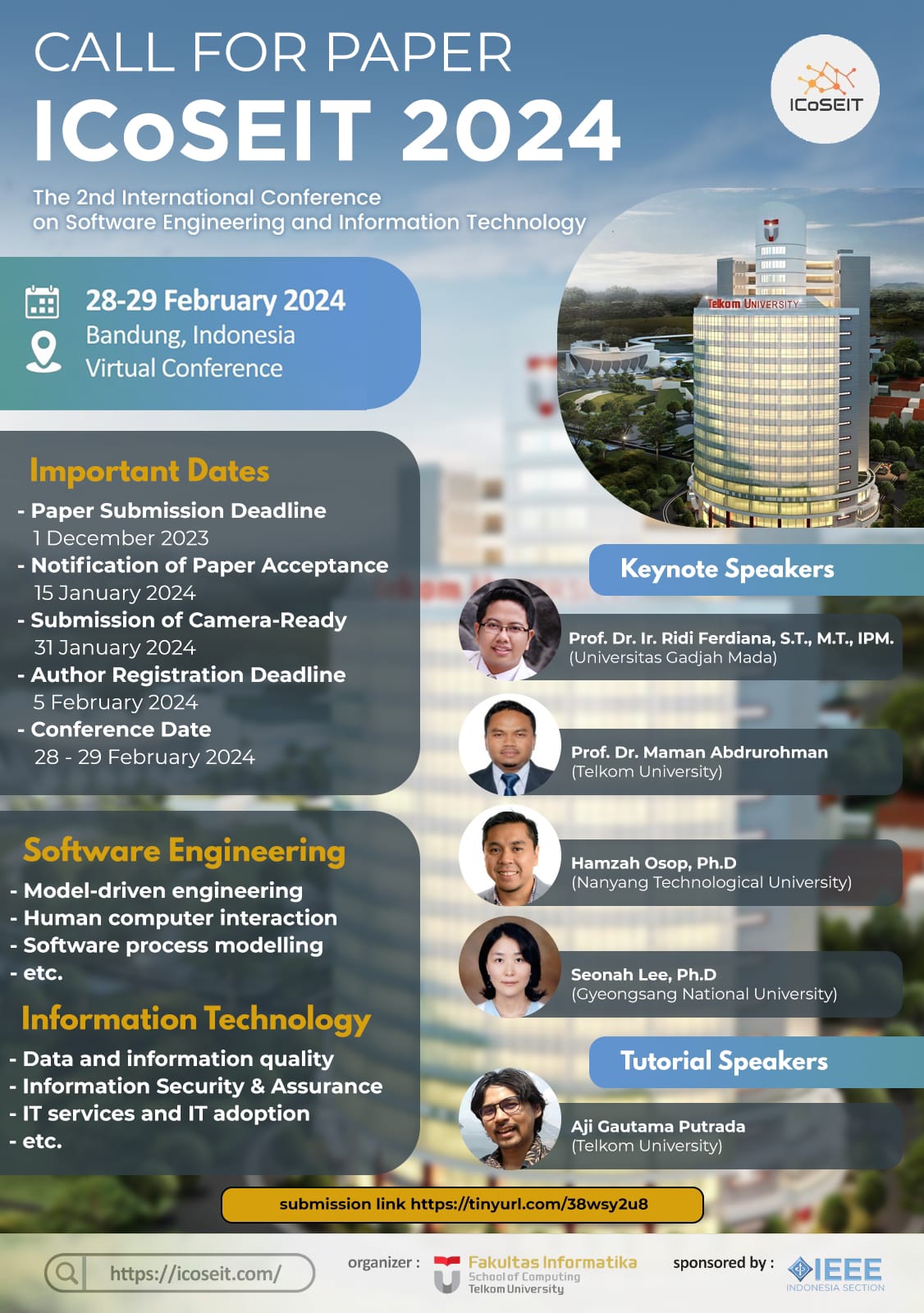 The 2nd International Conference on Software Engineering And Information Technology (ICoSEIT) 2024
International Conference on Software Engineering and Information Technology (ICoSEIT) is an annual international event that is organised by Telkom University. ICoSEIT is designed as a scientific activity to gather world-class researchers and scientists to share their state-of-the-art research works to solve problems related to software engineering and information technology areas.
Proceedings from the previous ICoSEIT 2022 have been published in IEEE Xplore and indexed by Scopus.
https://ieeexplore.ieee.org/xpl/conhome/10029345/proceeding
We welcome high-quality papers that describe original and unpublished research papers addressing the real issues, methods, and challenges on the following topics, but not limited to:
🎯 Software Engineering, e.g.,
📌Agent-based software engineering
📌Component-based software engineering
📌Model-driven engineering
📌Software architectures and design
📌Software process modelling
📌Software safety and reliability
📌Human computer interaction
📌Software engineering decision support
📌Data mining and machine learning for software engineering
📌Mining software repositories
📌Software engineering for data intensive software
🎯 Information Technology, e.g.,
  📌Business process engineering and management
📌Data and information governance
📌Data and information quality
📌E-business, E-government, E-learning
📌Information architecture
📌Enterprise information systems
📌Enterprise resource planning
📌IT services and IT adoption
📌Data science for digital business
Prospective authors are invited to submit full papers of 4-6 pages (including tables, figures and references) in standard IEEE double-column format.
The manuscript template can be downloaded from:
https://www.ieee.org/conferences/publishing/templates.html
Paper submission: https://edas.info/newPaper.php?c=31086
📅 Important Dates (EXTENDED)
Paper Submission Deadline : 1 December 2023
Notification of Acceptance : 1  5 January 2024
Camera Ready : 31 January 2024
Registration Deadline : 5 February 2024
Conference Date : 28-29 February 2024
The conference will be sponsored by IEEE Indonesia Section.
All accepted and registered papers in ICoSEIT 2024 will be submitted for inclusion into IEEE Xplore subject to meeting IEEE Xplore's scope and quality requirements.
For More Information, e.g. regarding the scope of the conference please visit ICoSEIT website.
🌐 https://www.icoseit.com
📩 info.icoseit@telkomuniversity.ac.id