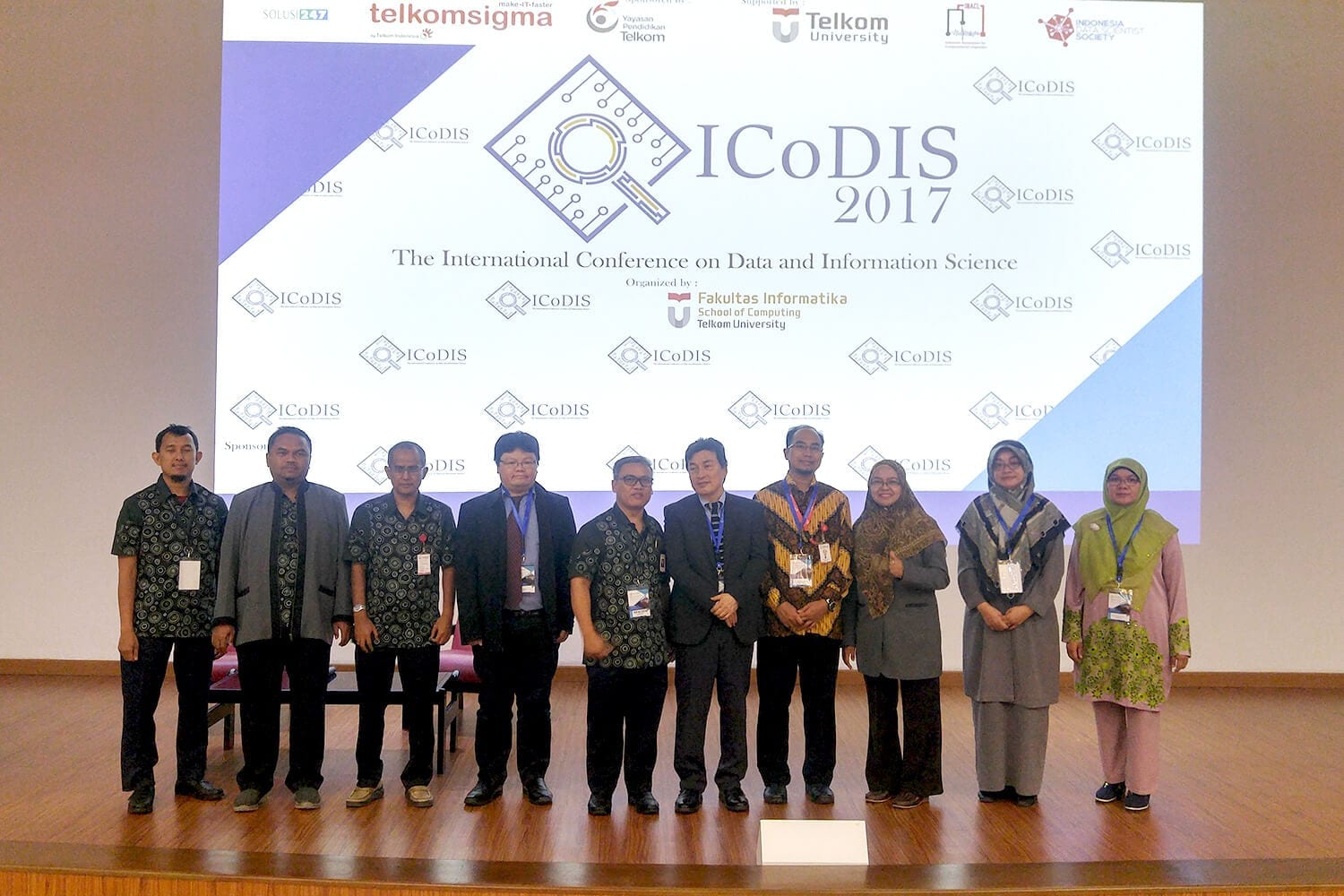 International Conference on Data and Information Science (ICoDIS) 2017 merupakan kegiatan ilmiah berskala internasional yang diselenggarakan oleh Fakultas Informatika Universitas Telkom. Konferensi ini merupakan ajang pertemuan internasional antara akademisi dan peneliti di bidang Data Secience. Ketua panitia, Prof.Dr. Adiwijaya menyebutkan bahwa dewasa ini, Data Science mejadi tren teknologi yang begitu diminati karena pertumbuhan data yang begitu besar di era perangkat mobile seperti sekarang ini membutuhkan solusi pengolahan data yang tepat. ICoDIS 2017 dilaksanakan pada tanggal 5-6 Desember 2017 di Auditorium Universitas Telkom dengan menghadirkan 6 pembicara kunci yang kompeten di bidangnya yaitu Prof. Dr. Toru Ishida dari Kyoto University, Prof. Dr. Naomie Salim dan A.P Dr Norma Binti Aliasdari Universiti Teknologi Malaysia, Dr. Luepol Pipanmaekaporn dari King Mongkut's University of Technology, Dr. Eng. Khoirul Anwar dan Dr. Moch Arif Bijaksana dari Telkom University.
Pembicara pertama, Prof. Dr. Toru Ishida dari Kyoto University memaparkan mengenai The Language Grid for Supporting Intercultural Collaboration. Dalam paparannya, Prof. Toru mengajukan konsep kolaborasi interkultural dimana partisipan yang berasal dari beragam kebudayaan dan bahasa sama-sama berkontribusi untuk mencapai satu tujuan global. Dikarenakan kolaborasi interkultural ini dilakukan untuk data yang cukup langka, diperlukan eksperimen yang paralel pada dunia nyata dan laboratorium. Salah satu kolaborasinya adalah membangun software open source berbasis penerjemahan oleh mesin.
Pembicara kedua yaitu Prof. Dr. Naomie Salim dari Universiti Teknologi Malaysia mempresentasikan mengenai metode data mining untuk mendukung proses desain dan pengembangan obat dengan bantuan komputer.
Pembicara ketiga, Dr.Eng. Khoirul Anwar menyampaikan topik berjudul Challenges on 5G Massive Internet of Things: Behavior Analysis from Graph. Terinspirasi dari perkembangan terkini mengenai coding theory, Dr. Eng. Khoirul Anwar menyampaikan mengenai sebuah metode untuk memecahkan masalah multiple access yang melibatkan perangkat IoT dalam jumlah yang belum bisa diselesaikan oleh teknologi yang ada saat ini. Lebih jauh, Dr. Eng. Khoirul Anwar juga mengulas beberapa skema coding dasar yang memunginkan bisa digunakan untuk membantu masifnya akses wireless di masa depan.
Tiga pembicara berikutnya berbicara bersama mengenai data science, dengan topik: "Multi-Class Learning Stategies for Large-Scale Classficiation", "Complex Model, Sequential immigrants, Big Data Generation, Large Sparse Simulation And High-performance Computing Platform for 4iR Applications" dan "Text Analysis for Al Qur'an to Help Us Understand It Better".
Selain itu, ada juga presentasi paper2 hasil penelitian yang disajikan dalam sesi paralel. Paper yang submit ke ICoDIS mencapai 86 buah paper. Dan hanya diterima sebanyak 59 paper, artinya acceptance rate nya 68%.
Pemakalah afiliasinya berasal dari 7 negara, yakni : indonesia, malaysia, thailand, india, Inggris, japan dan perancis.